These Are Two Covenants: Reconsidering Paul on the Mosaic Law
Finding the inner logic of the apostle's complex approach to the old covenant.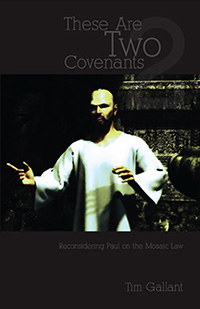 Release date: 2010 (digital) / 2012 (paper).
5.5x8.5" paperback; 103pp.
Retail price: Paperback $9.95 USD | PDF $4.95
buy it:
|

In this small book, Tim Gallant engages in careful rethinking of Paul's handling of the matter of the Mosaic law.

Keying on the central texts in Galatians and Romans, Gallant works with the logic and flow of Paul's arguments, rather than beginning with dogmatic questions. Without taking an uncritical stance toward recent development such as the New Perspective on Paul, nor offering a standard exposition of traditional exegetical approaches to Paul, Gallant helps unearth the inner logic of a variety of apparent tensions in Paul's reflections on the law.

The result is an intriguing re-presentation of Paul's salvation-historical hermeneutic.
Contents:
Foreword (by Rich Lusk)
Preface
Introduction

The New Perspective on Paul

What Law?

Particular vs Universal
Oral Law?
Scripture and Covenant

Not Under Law

Two Ages
Removal from Torah in Galatians
Removal from Torah in Romans
Torah Nailed to the Cross: Ephesians and Colossians
Other Pauline Statements on Removal from Torah

Why Not Torah?

Gentiles and Torah
Why and Wherefore
Life Under Sin
Sin, Judgment, and Torah
Israel's Boast

Justification, Torah, and the Abrahamic Covenant

Romans 10:5-8
Galatians 3:11, 12
Christ as Torah
Summary: Christ and the Covenants

Jewish Christians and a Defunct Law
Fulfilling the Law
Paul and Jesus
Paul and the Reformed Tradition

The "Moral Law"
Sola Fide and Saving Faith in Paul
The Reformation and Eschatological Justification in Paul

Conclusion
Bibliography
Mini-Glossary
Scripture Index
About the Author
buy it:
|