Big Ordinary Sins: Confronting Our Everyday Transgressions
A blast into the silence.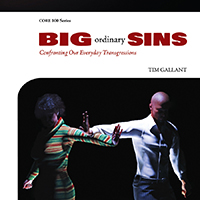 Series: Core 100
Release date: April 2022.
8.5x8.5" paperback; 100pp. + front matter.
Retail price: paperback $9.95 USD | Digital bundle (kindle, epub, pdf) $6.99
buy it:
|

Quietly, Western Christians have adopted worldly attitudes and behaviors toward dating, marriage, divorce, money, leisure, and a whole host of other things. And the pulpits have been largely silent.

Pastoral and prophetic, convincing and convicting, Big Ordinary Sins is not silent. Calling for an embrace of Christ's call for us to take up his cross and follow him, this book examines many of the areas where we need to repent — and shows us the gracious way forward.

As with other volumes in the Core 100 Series, Big Ordinary Sins is an easy-reading 100 page book, and features large margins for convenient note-taking. With its affordability and approachability, this is an excellent gift choice.
Chapter Contents
The Missing Cross: The Lost Message of Discipleship
Real Pharisaism: Neglect of the Weightier Matters
The Idle Idol: Squandering Time and Spiritual Energy
Never Enough: Consumed with Consumption
Easy Divorce: Splitting What God Has Joined
Heartbreak Hotel: Worldliness in our Love Lives
The Fear of Man: Cool Forms of Cowardice
The "Me and Jesus" Idol: Wandering from Worship
It's All About Me: The Idol You Sleep With